The Red Ants Security and Relocation Service has re-branded and diversified itself since re-starting its government contracts in 2014. Since then, Red Ants has constructed infrastructural projects, Agri-parks and sports facilities and contributed handsomely to many more wealthy causes. This project proposes a new Headquarters building to grow what is often referred to as a paramilitary operation in the iconic diamond building and previous home of the Johannesburg Stock Exchange, designed by German architect Helmut Jahn in 1981.
The Red Ants Security and Eviction Services
Started by farmer, Johan Bosch, The Red Ants Security and Relocation Service are a notorious company providing security solutions to both public and private clients. After rebranding the enterprise in 2014 The Red Ants have diversified their portfolio including other functions such as education, skills development, agricultural practices, and other services describing their aim of being "one stop all encompassing Urban Management support services for Human Settlements". Their recent success built off a trend of privatization has seen the Red Ants establish their new Headquarters on 11 Diagonal Street, Newtown, Johannesburg. This proposal discusses the exponential trajectory of niched privatized security forces in South Africa. Built around the issues of illegal occupancy and crime, Helmut Jahn's 80m high Diamond building begins to represent the new economy of eviction birthed from an over emphasis of 'business be our savior' in a society built on extractive practices and a shifted set of values of the neoliberal state.
Red Ants HQ
11 Diagonal Street, Johannesburg
The prominence of businesses' influence on Johannesburg has been exacerbated by the proliferation of City Improvement Districts (CIDs). These are local variations of the Anglo-American Business Improvement Districts (BIDs)which are drivers of entrepreneurial urbanism and the privatization of public space CID districts are criticized for further fragmenting an already unequal and divided city . Their use of privatized cleaning, maintenance and security services entrenches differential access to resources and amenities and makes the disparities between areas which are controlled by private interests and those which have not attracted investment even more stark.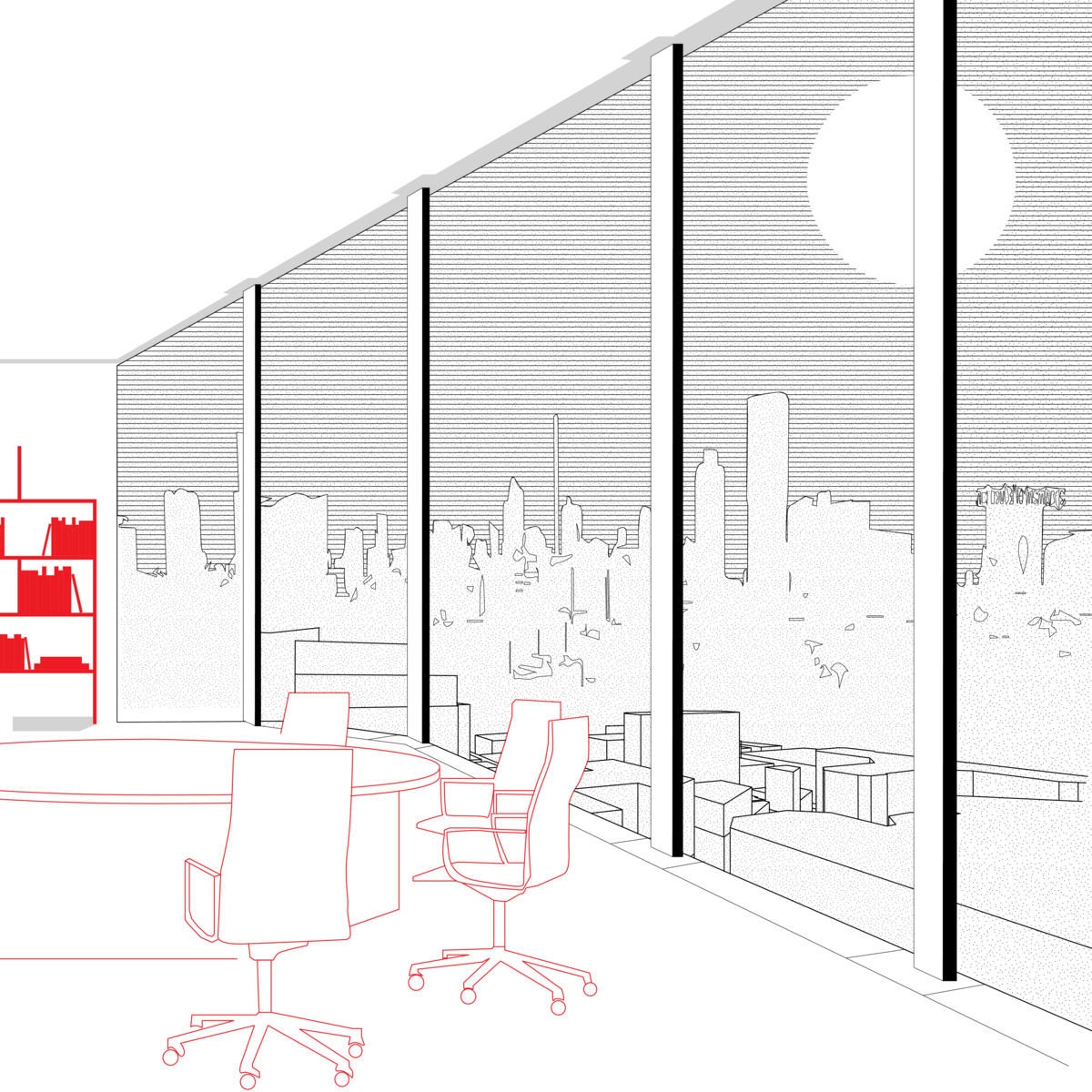 Johan Bosch and co.
For some segments of South African society, particularly white members, the decay of urban centers represents all the dangers which they associated with the transition to a multi-racial, democratic period causing many to have sought refuge in farremoved gated communities of the Northern suburbs . In contrast, housing providers' proximity to and engagement with the inner-city leads them to adopt more pragmatic responses to its current forms of urbanity. As one (white) housing developer complains, "Everyone told me I was nuts [to invest in the inner-city]; most white people are scared of Hillbrow, where there are 500 black people; it's just prejudice".
Whilst Johannesburg has found recent success towards its goal of urban regeneration the Red Ants have partnered with South African Police Services and Department of Justice in combating the illegal hijacking and occupation of buildings in metros and city centers. In the Johannesburg CBD, their operations have yield "positive" results. Each major eviction has coincided with the commencement of prosecutions of slum lords as the government battles to bring these syndicates to book.
11 Diagonal Street
The Red Ants HQ
By projecting the explosive growth of South Africa's private securities industries over 11 Diagonal street, the iconic modernist building by German architect Helmut Jahn - the very act of projection of an existing circumstance lays the groundwork for the emergence of new understanding of the city, a method this construction of an alternate reality and its subsequent juxtaposition with reality is what lies in the foundation of the "Paranoid Critical Method" advocated by Koolhaas. This experimental method, introduced by Salvador Dali, juxtaposes a surreal concept with the existing reality to re-contextualize it. It creates a collage between the surreal and the real allowing one to act as a ground for the other. In its essence, it is a method for modification of the ground to recontextualize the figure. The paranoid-critical method was not merely an abstract concept; it allowed Koolhaas to conceptualize the idea of ground differently. Instead of being a rigid datum, it allowed perceiving the ground as a modifiable entity.
Private security in SA
Red Ants security training happens on the upper floors, reached via the main lift lobby applicants complete a fitness test and basic simulations of entering a building, new applicants move down each level and complete their entry test on the fourth floor. After an eviction order has been executed the Red Ants are contracted as the professional to execute the command. These staff have undergone basic security training usually lasting less then a week. Red Ants Security has also worked closely with the South African Police to tackle security related incidences such as removal of illegal electrical connections in various townships. The Company has also partnered with Municipalities and State-Owned Enterprises (SOEs) such as: National government, City of Cape Town, Johannesburg City council, Eskom, Transnet, Human Settlements, Local municipalities and more.
The Economy of Eviction
Hillbrow, Johannesburg
The privatization of eviction services allows the government to char
ade itself behind the murky cloak of profit-based service delivery, incentivized by the efficiency, ruthlessness, and success of operations.
The opposing sentiment, whilst perhaps romanticized in the case of dire living circumstances, advocates protection of the localized forms of habitus which the inner-city has produced. Here the inner-city is embraced on its own terms. Rather than being read in terms of its deficits and failures to meet the standards of European urbanity, or achievements in this quest, it is appreciated for its own idiosyncrasies, experiences, and possibilities. The new democratic dispensation and socio-political context of South Africa's racial transition and new forms of African Urbanity.
PSIRA Registration
After successfully passing the final entrance test, new Red Ants complete their PSIRA registration in the in-house registration office on the third and fourth floor. Security is the most apparent instance where privatization is rapidly outpacing the state. In 1997 there were roughly the same amount of police officers as active security guards (110 000 to 115 000). Since then, the police force has increased by approximately 31% to account for population growth and a larger mandate to support and provide safety to South Africa's citizens. At the same time, private security has ballooned by 383% (to 557 000) . Walled suburbs and control rooms have become usual in South Africa's suburbs - Making safety as a service one of the most important factors in increasing the perceived value of property within the city.
The Future
The Red Ants
The market-led regeneration of privatized state functions resemble closely the neoliberal framework which has become hegemonic across the globe, alternative social priorities, policy frameworks and cultural and contextual settings are able to temper the harmful side of capitalized service delivery in order to produce alternative and complex identities and outcomes.
The Build Back Better Program
In a fragmented and privatized society, security personnel in CIDs are also shown to focus a great deal of attention on policing 'unwanted' populations, particularly the homeless and beggars. Furthermore, many people have been evicted from buildings before their refurbishment. Recent legislation used under the banner of the urban renewal of Johannesburg CBD has allowed the state to expropriate dilapidated and hijacked buildings. A programme initially termed the Bad Buildings Programme. It later rechristened the Better Buildings Programme (BBP) worked on the principle that the City Council would repossess buildings which had fallen into decay and whose arrears amounted to more than their market value and then sell them to pre-approved developers at reduced rates). A condition of this programme was that companies acquiring and renovating buildings would have to cater to low-income communities. The Johannesburg Housing Company (JHC), the city's predominant social housing institution, received several buildings through this programme.