The extensive coalfields in the Gauteng region are an ecological hazard and at present have no future management-planning once the coal is depleted or is no longer used as an energy source. Simultaneously, South Africa has for over a decade experienced rolling blackouts necessitating retrofitting many powerstations. This project looks to intercept this trajectory towards more coal extraction and power generation by imagining an alternative "energy-landscape" of more renewable energy sources. Importantly, the project does not propose specific future landscape or architectural outcomes but rather speculates on how the logics of extractive processes - in this case coal mining - can be re-adapted to create a more sustainable landscape. The entire Witbank coalfield region is studied to formulate an indexical approach to the territorial recalibration of the energy-generating/transmission infrastructure by focusing on the Anglo Kleinkopje Colliery as a specific case study to speculate on the future South African energy landscape.
Energy Landscape
South Africa
Coal is the dominant source of energy production in South Africa, and most of that coal is extracted near Gauteng. As a result, most powerstations built by the national energy provider - ESKOM - are located near Johannesburg.
In 2007, ESKOM began a series of energy loadshedding because the nation's energy demands were exceeding its capabilities to supply it - a consequence largely caused by failing powerstation infrastructure and mismanagement resulting from political corruption at ESKOM.
In 2011, South Africa introduced the Renewable Energy Independent Power Producer Procurement Programme (REIPPP) to incentivize capital investment into alternative energy techologies by opening opportunities for non-ESKOM affiliated utility companies to supply power onto the national electrical grid.
This project opportunistically capitalizes on these two circumstances to speculate what the new South African energy landscape could be.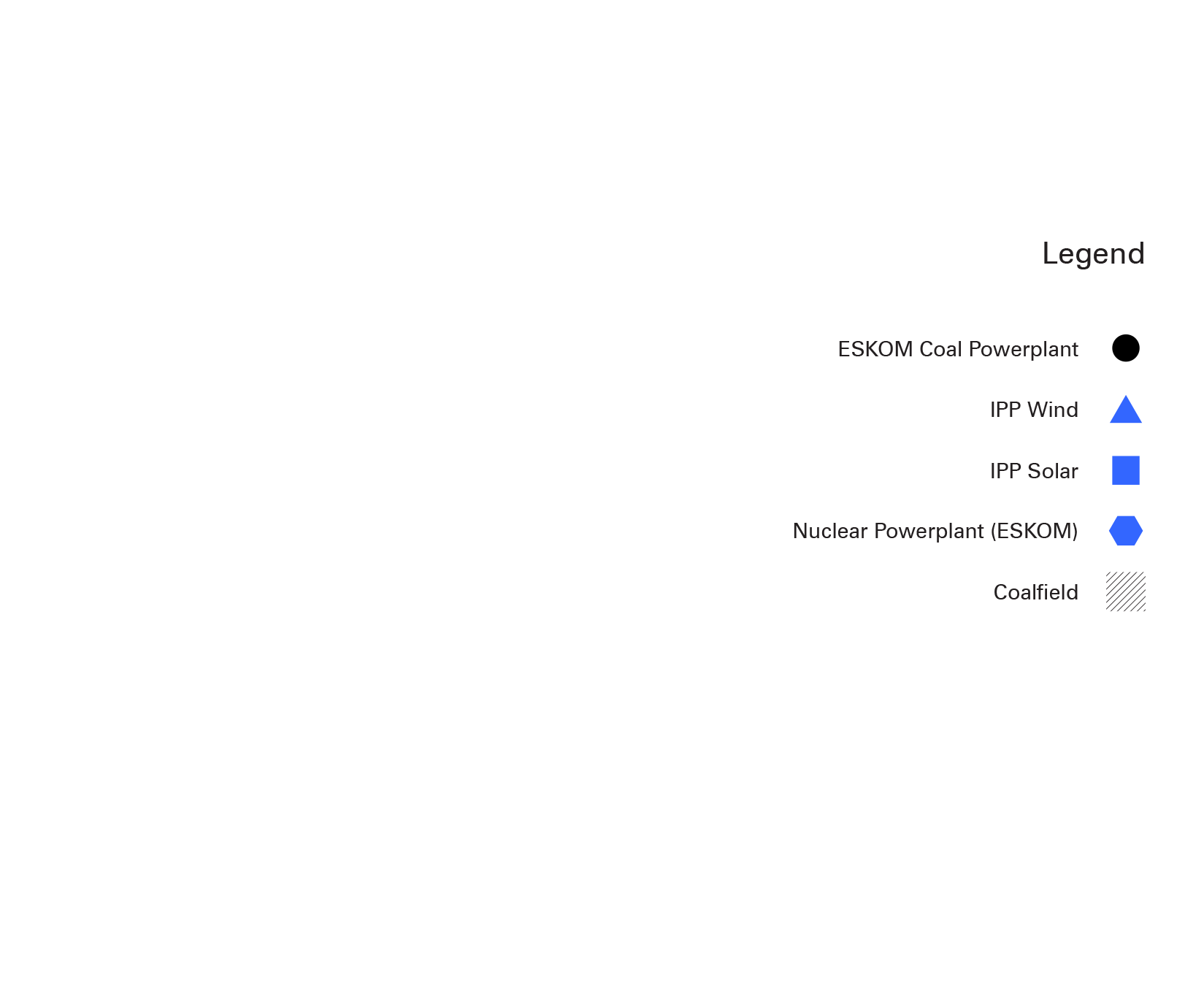 Witbank Coalfield
Mpumalanga
East of Johannesburg, the Witbank Coalfield is historically one of the most important extraction zones for coal in South Africa as is demonstrated by the extensive land area already mined. To maximize transportation efficiency, this region also constitutes the densest conglomeration of ESKOM (coal) powerplants throught the country.
Many applications to re-open/refurbish powerplants to meet the nation's energy demands are for sites near the coalfield.
The selected site for this project is the Anglo Kleinkopje mine located at the heart of the coalfield for its size, proximity to major infrastructural routes and Duvha power station, and diversity of adjacent site conditions.