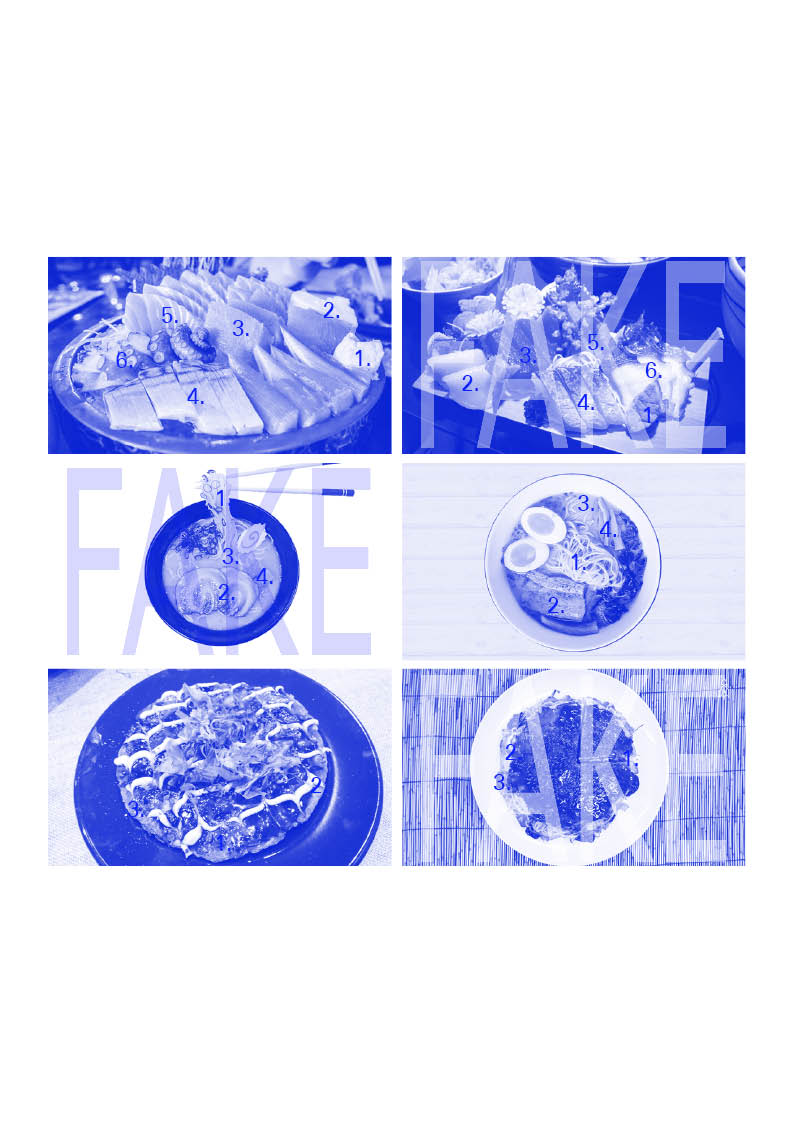 Fake Food
Failure of a system
,
Food
,
Consumption
,
Waste
,
Global
,
National
,
Advertising
,
Culture
,
Economy
,
Lifestyle
,
Mosaic
Could you tell which one is real Sashimi? Fake foods, also called food model or food sample, is a model placed in the vitrines of the facade of a restaurant to display dishes provided inside. These fake foods are made of plastic, wax, resin, etc.
Japanese businessmen develop food samples that aim to provide customers with an easy way to order a meal without menus. By conservative estimates, the industry of fake food has revenues of billions of yen per year in Japan. A single restaurant may spend over a million yen to order a set of fake food for the restaurant's menu. A food model is much more expensive than the food it imitates, but it could be used repeatedly. In recent years, Japanese fake food manufacturing companies have spread their business overseas, including China and South Korea.
Besides used in the restaurant, fake and replica foods are used in many ways, such as props for movies, television shows, plays, TV commercials, print ads, and shows. And since its delicate style leads a trend in the market, the company also creates another business to demonstrate the process of making fake food to people and provides an activity to customers to make fake foods by themselves
1
.
Although it becomes a special culture in Japan, the necessity of fake food is still doubted. After all, restaurants still provide a menu to customers, which explains that this product is not inevitably needed. Behind the huge profit of fake foods, on the other hand, it is another large amount of energy costing to make this unnecessary object.

1. Wikipedia. "Food model", last modified Jan 27, 2020, https://en.wikipedia.org/wiki/Food_model
See Photos:
Tokyo
Listen audio:
12